Fundraising Projects
The Rotary Club of Harrow & Yorkshire Tea Wheelchair Appeal
Yorkshire Tea has joined forces with Rotary to help support the Wheelchair Foundation, launching our own Yorkshire Tea Wheelchair Appeal. So we are asking if it is possible for your children to collect the barcodes from packets of Yorkshire Tea for us and help us with this appeal.
The Rotary Club of Harrow will be pleased to receive any barcodes - please help to spread the word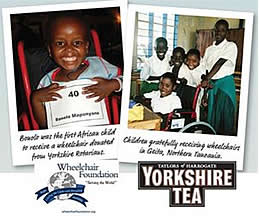 Barcodes Buy Wheelchairs!
The Barcodes are worth credits, depending on the pack size which you buy.
80 tea bags = 1 credit
160 tea bags = 2 credits
240 tea bags = 3 credits
For every 10 credits returned Yorkshire Tea donate £1 to the Wheelchair Foundation. Every £75 that Yorkshire Tea donates buys a wheelchair.
Thank you and we hope you can support this project.
---
The Rotary Club of Harrow Annual Quiz
This popular annual event helps raise funds for Rotary Charities and in keeping with most Harrow Rotary events, the food is fantastic and the wine flows.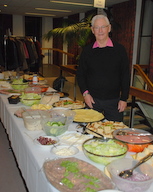 ---